Click the green compare icon to compare anesthesia technology programs side by side, or click on the programs to see detailed information on them.

Learn more about programs, find programs near me, or explore anesthesia technology careers.
---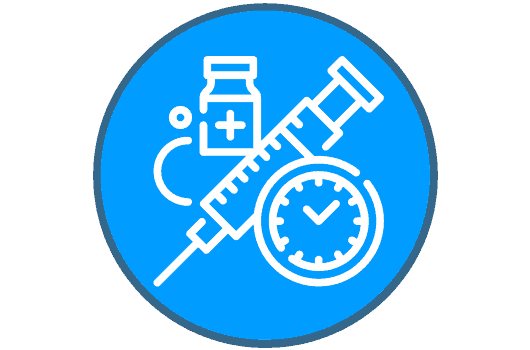 ---
What is Covered in an Anesthesia Technology Program?
Most anesthesia technology programs are geared towards training aspiring anesthesia technologists. The program consists of courses in anatomy, physiology, pharmacology, mathematics, English, psychology, history of anesthesia, and more.
Anesthesia technologists are professionals who are trained to administer anesthesia to patients who are undergoing surgical or other medical procedures. Anesthesia technologists are responsible for the intra-operative monitoring of the patient's vital signs while providing assistance to the anesthesiologist during surgery.
Anesthesia technology training encompasses the hazards of anesthesia, the administration and care of patients, equipment evaluation and maintenance, and a focus on quality assurance.
Anesthesia technology programs are designed to provide students with the skills to become competent in their field.
Graduates of a CAAHEP accredited Anesthesia Tech program will be eligible to take the state licensing exam to become certified.
Anesthesia programs may also be offered as a post-baccalaureate program for those who already have a bachelor's degree in a field other than healthcare. These programs are faster than the bachelor's programs and usually take about a year to complete.
Some anesthesia technologist programs are geared towards training anesthesia assistants. Both types of programs will typically include some clinical training in a real hospital, medical office, or clinic. This is because hospital-based programs are more conducive to the training of aspiring anesthesia assistants, as patients will be present.
How Long Does Anesthesia Technology School Take?
Students can expect to complete the program in an average of 20 months or just under 2 years. Coursework may be taken in a variety of formats, including hybrid, online, and in person. Program length may vary from 18 months to two years, depending on the program.
There are also bachelor and master degree programs for anesthesia technologists who already have degrees and want to further their education. Depending on your existing credit hours the length of these programs will vary.
How do You Become an Anesthesia Technologist?
In this section, we answer, "What is the Required Education and Training in Order to gain employment as an Anesthesia Technologist?"
The education required to become an Anesthesia Technologist is a postsecondary vocational program in surgical technology. As noted above, most students will opt for an associate degree in anesthesia technology but some will choose a bachelor or master degree program.

Upon completion of the program, the prospective Technologist must pass the National Board of Surgical Technology and Surgical Assisting exam, which is part of the National Center for Competency Testing. This exam is used by all 50 states as an assessment for surgical technology competency.
What Does an Anesthesia Technologist Do?
They are the health care workers who are responsible for the patient's well-being during the time he or she is unconscious. Anesthesia technologists monitor a patient's vital statistics including heart rate, respiration rate, oxygen saturation levels, and blood pressure. They are responsible for the maintenance of equipment and monitoring equipment as well as assisting the anesthesiologist with the procedure.
Anesthesia technologists work in clinical settings, such as hospital operating rooms, ambulatory surgery centers, anesthesiology clinics, and physician offices. They assist in a wide variety of procedures, including orthopedic surgery, brain tumor removal, cardiac catheterization, plastic surgery, and treatment for breast cancer.
They are responsible for monitoring patients before and during surgery, administering anesthesia, and providing support to the surgeon during the procedure. Also, these medical professionals are responsible for the maintenance, cleaning, and sterilization of medical equipment.